AGBU Sydney
The history of AGBU in Australia, and of Alex Manoogian Saturday School, trace their roots back to the historic day in 1906, when the visionary Boghos Nubar Pasha and others stablished what was to become a global Armenian philanthropic organisation.
The AGBU became a source of comfort and strength for the generation orphaned by the 1915 Genocide, equipping survivors with a sense of purpose and a motivation to rebuild their lives. Through its service to our nation, the AGBU bore witness to the old axion that 'unity is strength'.
In over a century of fulfilling its mission, the AGBU has become the largest Armenian philanthropic organisation, supporting, serving standing with and dedicating itself to the needs of the Armenian nation through wide range of activities.
The AGBU has tried to keep in step with the needs of the times, and has been flexible in adjusting to changes in the political and economic landscape. And so, in 1924, the AGBU Headquarters moved from Cairo to Geneva and from there to Paris, eventually finding its resting place in New York City, USA.
Through its many chapters in Armenia, Artsakh and the Diaspora, the AGBU continues to fulfil its educational, cultural, scientific and sports mission.
Often, the decline of one diasporan community heralds the birth of a new one. Over the past 100 years, the fate of the Armenian people has (interruptions notwithstanding, especially in the Middle East) followed the same pattern of community-formation inherited from the Ottoman Empire in 1915. As Armenians started emigrating from the Middle Eastern to faraway Sydney, they brought with them the familiar trilogy of community structures: church, school and community centre.
Armenian migration to Australia began in the 1850s, in particular with the arrival of businessman from India and the Far East. The next phase of settlement came with the survivors and orphans of the Armenian Genocide in 1915, who gave birth to the Diaspora as we know it. Finally, following World War Two, and in particular beginning in the 1960s, large number of Armenians chose Australia as their new destination, forming the Australian-Armenian community as we know it.
In the midst of the struggles facing Armenians in different parts of the world, 1963 was a year of celebration for the AGBU family as its Sydney Chapter commenced its work. The Chapter had been inaugurated in 1962 under the auspices of His Eminence, Bishop Assoghig Ghazarian, and with the active support and efforts of Rev. Father Aramais Mirzaian.
The AGBU Sydney Chapter's first committee was as follows:
Honorary President: His Eminence, Bishop Assoghig Ghazarian
Honorary Vice President: Rev. Father Aramais Mirzaian
Chairman: Mack Hagopian
Secretary : Vahan Hannesian
Treasurer: Armen Apcar
Advisor: Edgar A. Edgar and Nahabed M. Nahabed.
Publicaciones relacionadas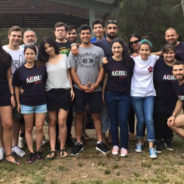 There is something very human about being benevolent. Everything from a simple act of kindness to large-scale philanthropic endeavors can inspire something common in all of us: the very human need to connect. This was a topic of discussion at our latest AGBU Youth meeting earlier this year. Sitting at the same table we sit around each month for our regular meetings, we found ourselves sharing stories about how happy it makes us that AGBU provides the space and structure for people to meet and to socialise. The key, we concluded, was having a kind and open approach that is welcoming to anyone who wants to learn about Armenian culture, hang out with Armenian people, or help support the Armenian community. After this discussion, as a committee, we decided that whenever AGBU Youth feels lost or without direction this year, we are going to let the 'B' in AGBU guide us through. Service to the community A history of war and destabilizing hardship is a staple of Armenian identity. This hardship, which is still deeply felt by many, has inspired the need to support one another in times of challenge or strife. This may explain why charitable hearts and philanthropic minds abound in the global Armenian diaspora. Acts of charity and kindness are also ingrained in the AGBU history and culture. Benevolence plays an important part in AGBU's foundation and development over time, from the orphanages of its early history to the vast network of schools that it now operates across the world and the multiple humanitarian campaigns designed to assist victims of violent conflicts. The global AGBU community has supported many individuals and groups in their pursuit to freely practice education, dance, sport and religion over its 110 year history. There appears no end in sight to AGBU's consistent goal to connect small communities to wider, global, supportive networks. The accumulation of this long history of helping (Armenian) people flourishes both inside and outside of the diaspora. Helping people to feel a sense of belonging has set in motion a domino effect that encourages each new generation to continue this legacy of benevolence. Our goals of benevolence When reaching for benevolent goals, the best place to start is at home. For us, that means ensuring that our day to day activities continue to provide a platform to give young Armenians and young people in general a place to come together, belong, develop and enjoy themselves. This also means providing an opportunity for our members to contribute to the direction of AGBU Youth and encouraging them to reciprocate through service to the community. We will also strive to support the broader Sydney-Armenian community. We will continue to work with other community organisations and expand our social links with them. It is however also important to think beyond ourselves if we are going to be true to the spirit of benevolence that is such an important part of our history. There are always people outside our own communities who rely on the kindness of others. In this spirit we will also spend the year supporting local organisations who make a difference in the lives of the marginalised and disadvantaged youth of Sydney. We are excited to start our year of benevolence, and we invite you to come along for the...
read more